PVC Three Way Ball Valve / Three Way Ball Valve Manufacturer
How a 3-Way Ball Valve Works ?
A 3-way ball valve works by turning the handle, which rotates a ball in the valve body, to align the cut-out channels in the ball with the inlets and outlets of the valve. The "T" shape cut-out of the ball on a T-port valve can also send from one port to another, but can also be rotated so that the T aligns with the "T" shape of the valve and all three ports are mixed.
The Three Way Ball Valve can assist mixing, distribution, and diverting of media flow. The two basic port designs can be positioned by turning the valve a quarter turn.
How to Tell Direction of Flow in a 3-Way Ball Valve ?
On a Three way ball valve there will be a tee-shaped arrow indicator on the handle which mimics the cut out section of the ball inside the valve. By referring to this mark, it can be ascertained which direction(s) the flow will travel through the valve.
TECHNICAL SPECIFICATION of THREE WAY BALL VALVE
| | |
| --- | --- |
| Material Of Ball valve | Polypropylene (PP) |
| Design | single piece body |
| Brand | Payal |
| Size Range | 20 mm to 90 mm ( 1/2" to 3" ) |
| Connection End | Pvc Solid type screw end & Plain Ball Valve |
| Max working temp | 70 c (consistently) |
| Colours | Black |
| Seat Ring Material | EPDM material |
Stainless Steel Threaded 3 Way Ball Valve
| | |
| --- | --- |
| Brand | Payal |
| Connector Type | Screwed |
| Size | 1/4″ to 2″ |
| Way | 3 Way |
| Pressure | 10 Bar |
| Material | Stainless Steel |
| Material Grade | SS 202, SS 304 / 316 |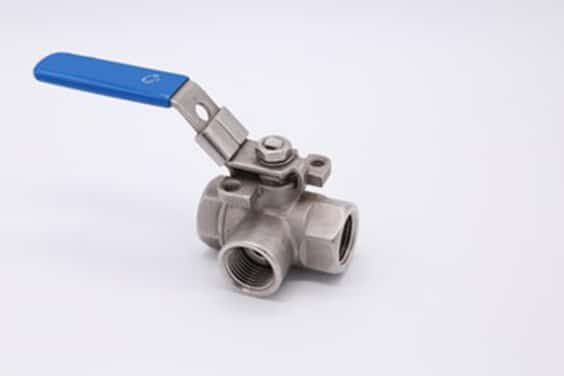 Medium Pressure 3 Way Ball Valve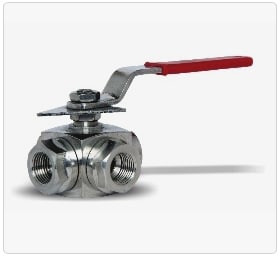 | | |
| --- | --- |
| Way | 3 Way Design |
| Material | C.I / C.S / S.S 202 / S.S 304 / S.S 316 |
| Pressure | Medium Pressure |
| Brand | Payal |
| Temperature Of Media | Low Temperature, Medium Temperature |
| Color | As Per Costumer's Requirement |
| Automation Grade | Manual |
| Way Type | 3 Way Type Design |
| Handle Type | Hand Lever Operated |
| Services | Water / Oil / Gas |
| Temperature | Low to High Temperature |
| Port Size | 1/2″ to 8″ |
| Connection Style | Flanged End or Screwed End |
| Rating | ASA 150 |
| Model Name/Number | 3 Way BLV |
| Design | "L" Port or "T" Port |
| | |
| --- | --- |
| Size | 1″ to 2.5″,32 mm to 75mm |
| Material | polypropylene |
| Brand | Payal |
| Media | Water |
| Automation Grade | Manual |
| Handle Color | orange |
| Connection Type | Plain / Threaded |
| Is It Branded | Branded |
| Working Temperature | 70′ |
| Color | black |
| Connection | Plain / Threaded |
| Minimum Order Quantity | 35 Piece |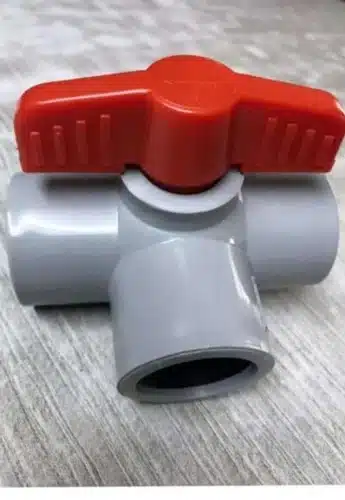 Plastic Pp Three Way Ball Valve
| | |
| --- | --- |
| Brand | Payal |
| Usage/Application | Water |
| Connector Type | THREADED and PLAIN |
| Size | 1″ to 3″ |
| Number of Ways | Three |
| Material | Plastic |
| Pressure | Medium Pressure |
| Minimum Order Quantity | 200 |