Service Saddle are Known as PP Service Saddle / HDPE Service Saddle. Plastic saddles for secondary line derivation from main lines of PE, PVC or PP for irrigation, high-pressure conveyance of water Connection.
A pipe saddle is any pipe support that cradles a pipe and transfers the pipe's load weight onto a supporting base. In process piping systems, a pipe saddle has two distinct features: A HDPE Service Saddle that supports the pipe. An integral base that helps you transfers the load weight from your pipe.
PAYAL's PVC Service Saddle
We are A best Quality Products manufacturer supplier And Exporter of Service Saddle. Our all Products provided by as per standard best quality, tested products. It is also used for connecting the branches of MDPE, HDPE, PP and PVC pipes that are used while various irrigation processes and in house service connections.
Our aim to provide a best quality service saddle at affordable price. Also, we give A large profiled rubber gasket O" Ring ensures a drop tight seal against a rough pipe surface. The primarily the service saddle supplied by Payal, which is meant to be used by those who want to remove a service outlet from a transmission or distribution water line. These pipe saddles create reliable service line connections on water mains and can be used on a variety of pipes.
Agricultural& Irrigation
Fixed on top of any PP , HDPE , PVC, UPVC Pipe fittings
House Hold Connection
Water Treatment Project for making a connection
Industrial
Securely Connect with Confidence: The HDPE Service Saddle Solution.
Size Doesn't Matter When it Comes to Secure Connections: The HDPE Service Saddle Solution for Any Pipe Diameter."
SIZE
THREAD B.S.P
SIZE
THREAD B.S.P
IN.
MM
IN.
MM
1″
32
½" , 3/4″
6″
160
½" , 3/4″ , 1″
1 1/4″
40
½" , 3/4″ , 1″
6″
160
1¼" ,1½" , 2″
1 1/2″
50
½" , 3/4″ , 1″
7″
180
½" , 3/4″ , 1″
2″
63
½" , 3/4″ ,1″
7″
180
1¼" ,1½" , 2″
2″
63
1¼" , 1½",2″
8″
200
½" , 3/4″ , 1″
2 1/2″
75
½" , 3/4″ , 1″
8″
200
1¼" ,1½" , 2″
2 1/2″
75
1¼" , 1½",2″
9″
225
½" , 3/4″ , 1″
3″
90
½" , 3/4″ , 1″
9″
225
1¼" ,1½" , 2″
3″
90
1¼" , 1½",2″
10″
250
½" , 3/4″ , 1″
4″
110
½" , 3/4″ , 1″
10″
250
1¼" ,1½" , 2″
4″
110
1¼" ,1½" , 2″
11″
280
½" , 3/4″ , 1″
4 1/2″
125
½" , 3/4″ , 1″
11″
280
1¼" ,1½" , 2″
4 1/2″
125
1¼" , 1½",2″
12″
315
½" , 3/4″ , 1″
5″
140
½" ,3/4″ , 1″
12″
315
1¼" ,1½" , 2″
5″
140
1¼" ,1½" , 2″
 
 
 
| | |
| --- | --- |
| Material | PP |
| Size | 40-300 mm |
| Usage/ Application | Pipe Fittings |
| Thickness | 5-50 mm |
| Brand | Payal |
| Weight | 200-300 gm |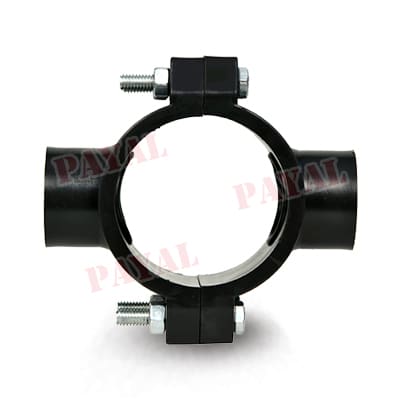 | | |
| --- | --- |
| Material | Polypropylene |
| Size | 40 – 200mm |
| Brand | SPI |
| Color | Black |
| Usage | Industrial |
| Head Shape | Round |
| Minimum Order Quantity | 50 |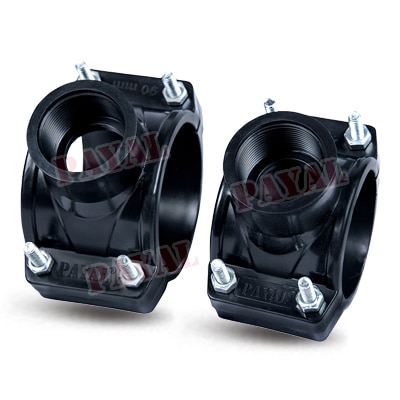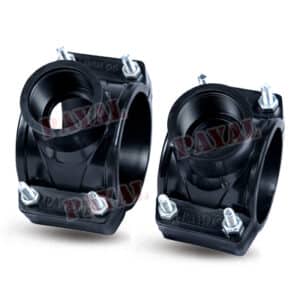 | | |
| --- | --- |
| Size | 1/2 inch,3/4 inch,1 inch |
| Thickness | 5MM |
| Brand | Payal |
| Color | BLACK |
| Packing Type | BOX |
| Pressure | 10 KG. |
| Diameter | 32MM TO 315MM |
| Connection | PIPE |
| Usage/Application | ALL TYPE OF PIPE |
| Material | Polyproylene |