HDPE Flanged valve manufacturer in India
The uniqueness of flanged PVC ball valves is their connection type, which is a flange Or Threaded. They have a high flow rate because they are normally full bore.
Flanged PVC ball valves can have two, three, or four ports, are lightweight, and are easy to install. The thickness of the flange varies according to the pressure of the application. When the PP Threaded end ball valve connected with thread part. PVC flanged ball valves are connected using bonding glue or bolts with a gasket.
Teflon ring is used to prevent the water leakage at the joint for the long lastic effect and long life. Resistant to water and with thread type joints. So, it saves the very swath laborious process while disconnecting or reconnecting the system.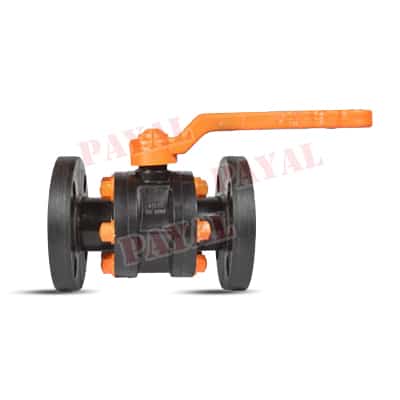 | | | | |
| --- | --- | --- | --- |
| No. | DESCRIPTION | QTY. | MATERIAL |
| 1 | Side Piece /Flanged end | 2 | PP / HDPE & PVDF |
| 2 | Body | 1 | PP / HDPE & PVDF |
| 3 | Ball | 1 | PP & PVDF |
| 4 | Stem/Spindale | 1 | PP With M.S. /S. S |
| 5 | Seat Ring | 2 | PTFE (TEFLON) |
| 6 | Body"O"Ring | 2 | Neoprene |
| 7 | Stem Seal Ring | 1 | PTFE (TEFLON) |
| 8 | Stem "O" Ring | 1 | Neoprene |
| 9 | Stud, Nut & Washer | REQ | M.S. Zinc Plated/S. S |
| 10 | Nut Cap | REQ | Polypropylene. |
| 11 | Handle | 1 | M.S. PP Coated. |
| 12 | Handle Hex. Pin | 1 | M.S./ S.S. |
| 13 | Handle Cap | 1 | Polypropylene. |